Puerto Rican musician, Daniel de los Reyes of the Zac Brown Band, offers his local Atlanta, Georgia non-profit/charity, DayGLOW Music, to provide a program supporting Hurricane Maria Relief.
Daniel de Los Reyes, percussionist for Zac Brown Band, and a native of Puerto Rico is volunteering his personal funds, time, and efforts, to assist in the Hurricane Maria Relief.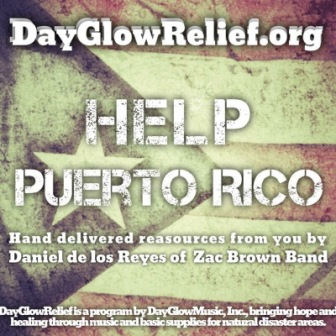 Danny is offering a Relief Program through his Atlanta, GA based non-profit/charity, DayGLOW Music, for anyone to make a donation toward the relief efforts. Please take a moment and donate a tax-deductible financial gift.
We would like to Thank You! for your Support of the DayGLOW Relief program! To date, with your help, just over $30K was raised specifically for DayGLOW Relief Program efforts.
Through your donations*, Danny, DayGLOW Music volunteers, and/or our designated partners, have purchased and will continue to purchase and transport goods. We will also personally distribute resources and funds, to those in need, throughout the island. Moving forward, DayGLOW Music will also be delivering music related outreach to the people of Puerto Rico. We firmly believe that music provides hope and healing.

Thank you in advance for your generous donations and continued support of DayGLOW Music and the DayGLOW Relief Program.
* DONATIONS: DayGLOW Incorporated will be responsible for allocating all donations toward DayGLOW Relief and/or DayGLOW Music efforts as deemed applicable by the DayGLOW Incorporated Board of Directors. Funds earmarked for the DayGLOW Relief Program by the BOD may be used as follows, but is not limited to, the purchase of goods to be transported: solar batteries, solar panels, water filtration kits, chain-saws, food, personal supplies, toiletries, etc.; and to take and distribute resources and funds to people and organizations in need; deliver music related outreach along with material relief, etc.
Please navigate below on this page to view some of the DayGLOW Relief past efforts. We will continue to post videos and images of DayGLOW Relief efforts here and on social media -please follow us:
https://facebook.com/DayglowMusicOrg
https://twitter.com/DayglowMusicOrg
Media highlights coming soon...
See our Facebook page as listed above for more highlights.