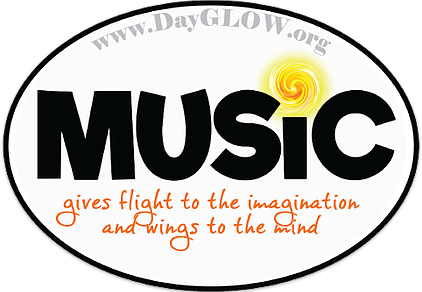 SHOW YOUR SUPPORT with our
NEW

 DAYGLOW Music Townie Sticker!

When we're impassioned about something we want to talk about it, tweet it, snap it, post it, link it, blog it...shout it from the rooftops! Now, we're making it more fun to share your love of music AND your support for DayGLOW Music when tooling around town with our classic, vinyl townie sticker.
Slap it on your window, stick it on your laptop or add a little inspiration to your notebook or planner (does anyone besides me actually carry a planner, anymore?)...whatever the use, we're sure you'll be reminded of your happy place everytime you see it.
​Sticker measures a generous 5 x 3.5 inches and is made of a thick, durable vinyl with a UV laminate that protects it from scratching, rain and sunlight.
be sure to order yours today!
Show your support for DayGLOW Music and order your sticker today.
$5.00 Mimimum Donation | Sticker Ships Free
---
Thank you for your support in making DayGLOW Music a reality! 
At this time we still need, well, just about everything. Pause for a moment to think about what might be required to run an education center of this caliber. Please consider the instruments and studio space; also the personnel and tools necessary to ensure DayGLOW Music offers and provides a unique and thoughtful experience. From grounds-keeping and maintenance of the Rhythm Trails and practice circles to constructing and caring for an outdoor performance area where family and friends can delight in the accomplishments of their students…if you can imagine it, then we likely need it!
While your volunteer efforts and in-kind donations are absolutely helpful, in an effort to continue to improve and maintain the DayGLOW Music Center and programs, what we need most at this time, are monetary donations. Of course, no amount is too small (or too big) and we will make every single penny count!
---
DayGLOW Music is exempt from Federal income tax under IRC section 501(c)(3). Contributions are deductible under the advice of a tax professional.
Again, thank you for supporting our mission of enveloping percussion instrumentation and personal development of our youth, with compassion and the harmony of nature.
Notice: Please be sure to print your receipt when utilizing our Donate option. Otherwise, please provide your email or authorize PayPal to share your email information with DayGLOW Music, then an email with your annual donation statement will be sent to you no later than January 31, following the donation year. You may also request a copy of your receipt at any time. Thank you!
---