April 2018 After School Program
We hosted an Atlanta based after school program for music education for local youth.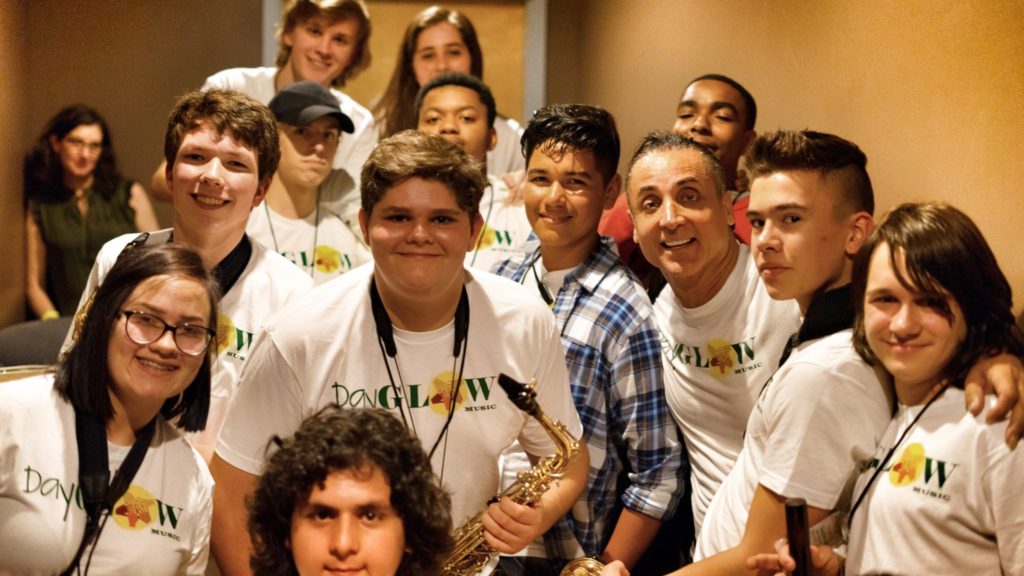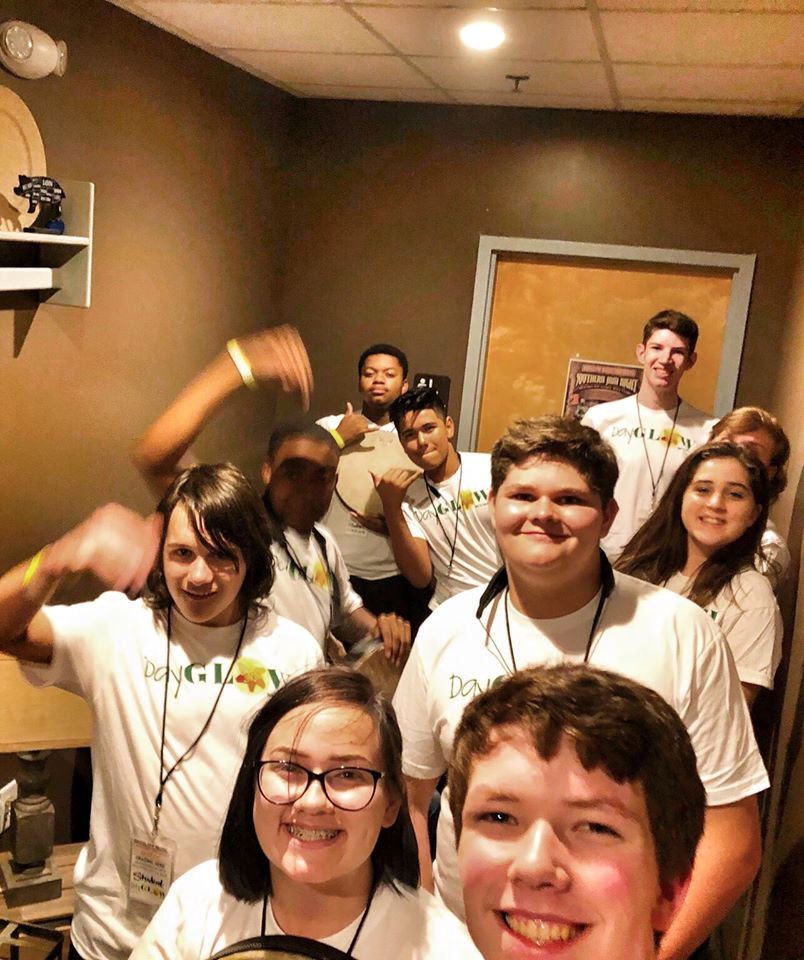 September 24, 2017
The Sail - Tampa, FL - DayGLOW Relief & Music Outreach. Benefitting the people of Hurricane Irma.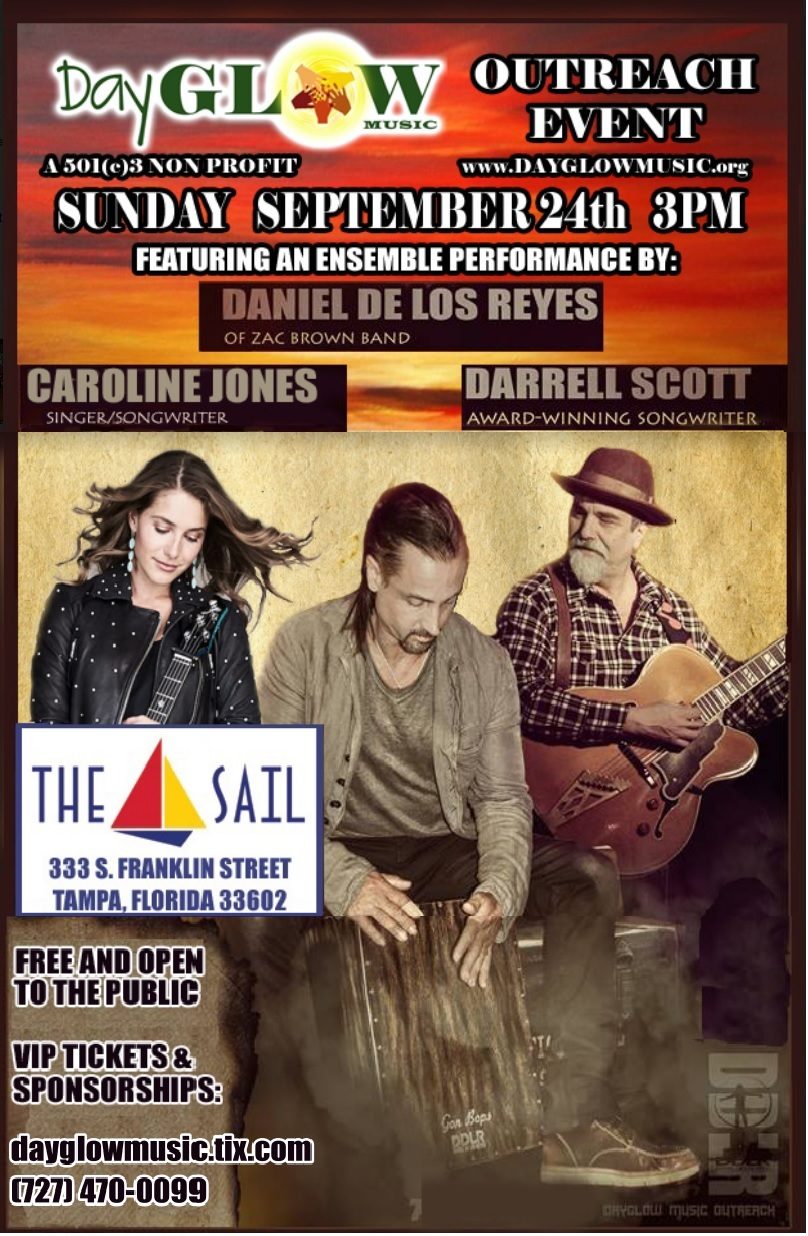 May 7, 2017 - PAS Valley Day of Percussion - Brownsville, TX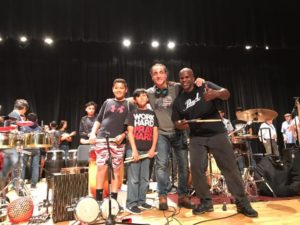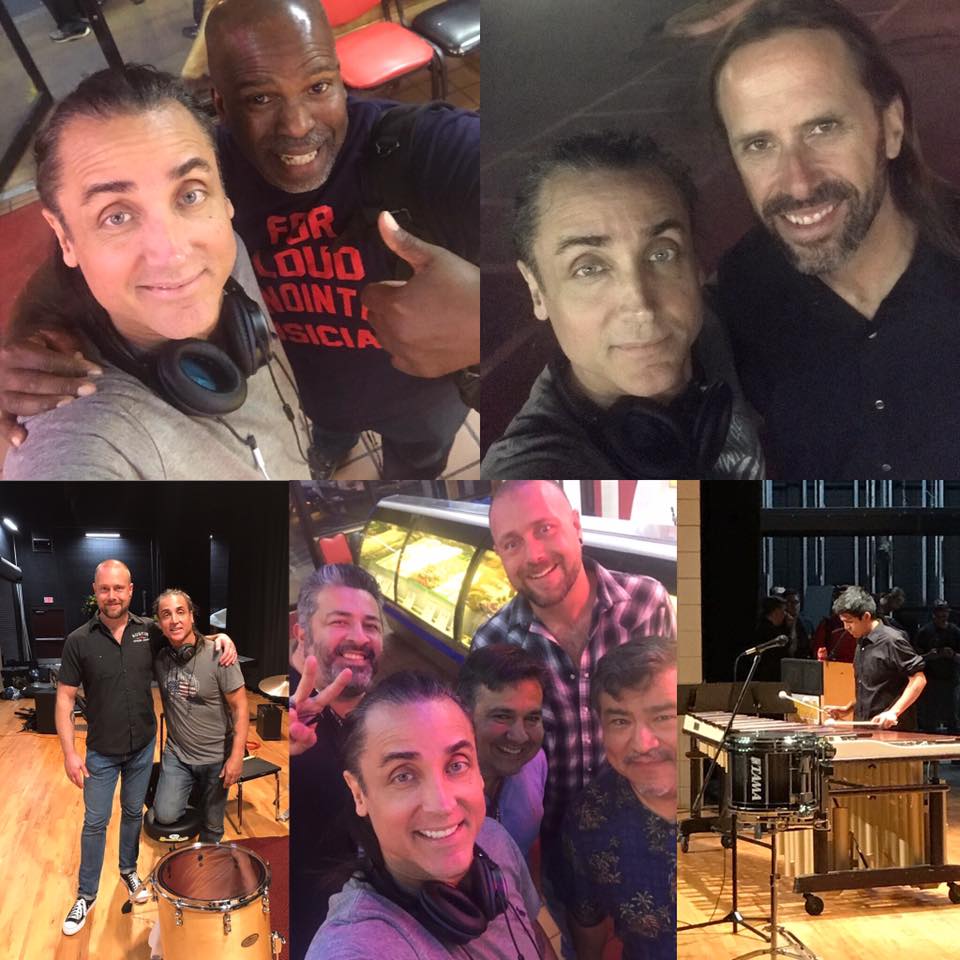 Facebook Posting by Danny - Great day for DayGlow Music. Great day for music education at Valley Day of Percussion in Brownsville / MacAllen area. Roberto Botello, cannot thank you enough for organizing this event.
An incredible music event held for children of all ages. PAS Valley Day of Percussion. A true assessment of integration through diversity. The faculty, the children, the community, all coming together. It is so important that we realize the potential of using the arts to assist our youth in development.
Audience participation with syncopation. Joining me onstage was a great group of guys including Will Kennedy from the Yellow Jackets. I have been using music or demonstrating with percussion since I was a teenager. I was fortunate to have grown up in a family of musicians and with a father that was. and still is, a constant student of music. We want to always share. One beat at a time we are making a difference.
April 28, 2017 - Arizona State University - AZ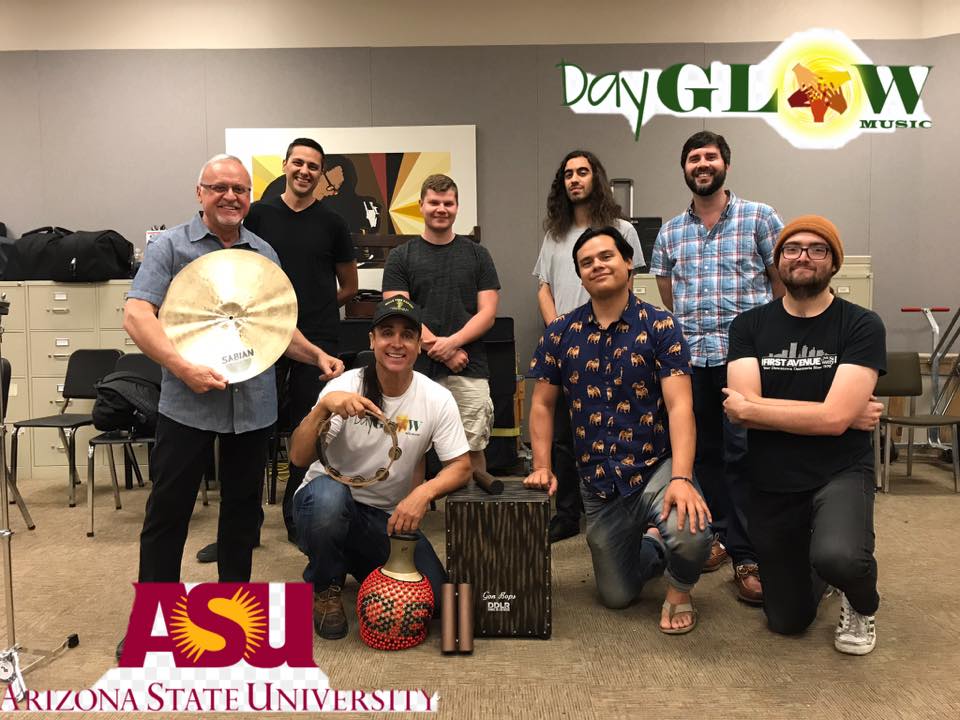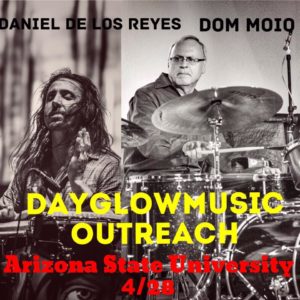 Facebook Posting by Danny - It was an incredible time had sharing DayGlowMusic concept with the students and faculty at ASU. One beat at a time we are making a difference.
"Great to have my students benefit from Daniel's musical and professional experience today. We look forward to having him here again."
-Dom Moio Senior: lecturer ASU Jazz studies department
March 22, 2017 - Life is Beautiful Festival & Opportunity Village - Las Vegas, NV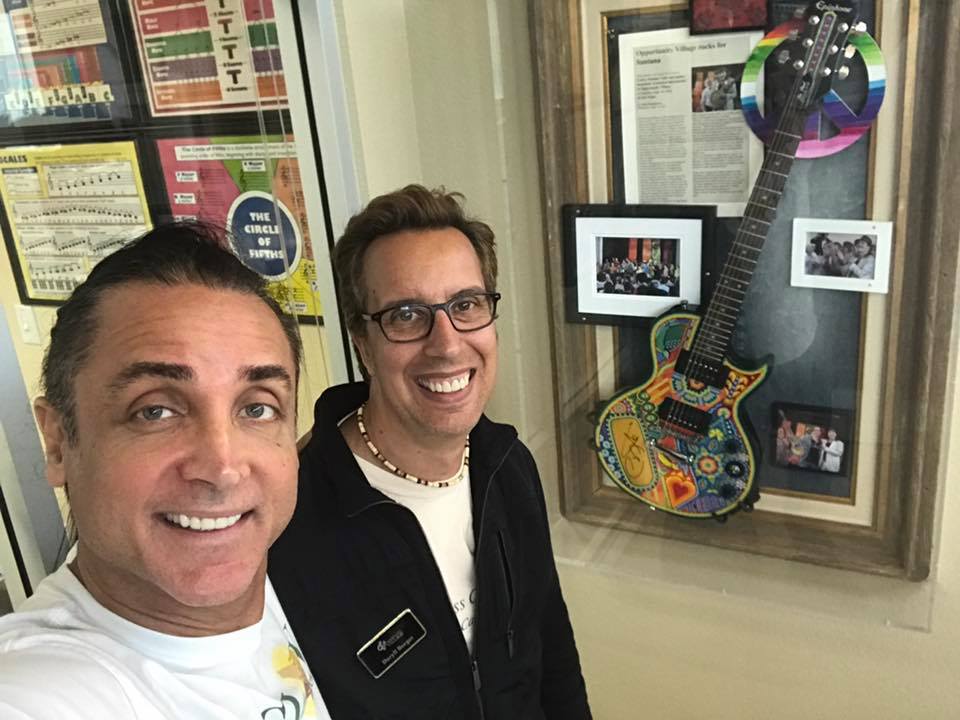 Facebook Posting by Danny - Today was a beautiful and very eventful day. In looking to expand the DayGlow Music project, Las Vegas where I grew up is a perfect place to establish one. A school or program in the very near future seems like it is going to happen. I met with Corey Fagan Community Relations Manager for Las Vegas biggest festival Life Is Beautiful. Expect some beautiful and incredible results from this wonderful meeting.
Then I went to Opportunity Village where I used to host rhythm interactive workshops with their clients along with helping them on their first client interactive performance for their year-end gala. A most memorable and successful performance.
I met, pictured here, Daryl Borges who is part of the new team. He along with his associates are really doing some wonderful things. I was deeply touched and inspired by this wonderful meeting. I look forward to being in contact with him and coming up with something where we both can be involved in touching and affecting others.
Please check out Opportunity Village in Las Vegas.
Opportunity Village believes that people with intellectual disabilities and their families should have choices in where and how they are served. So, Opportunity Village provides a variety of different programs which provide men and women with all levels of disabilities the chance to lead a life that had previously been unattainable.
February 19, 2017 - Music and Life Workshop - DayGLOW Music Center for Education - Fayetteville, GA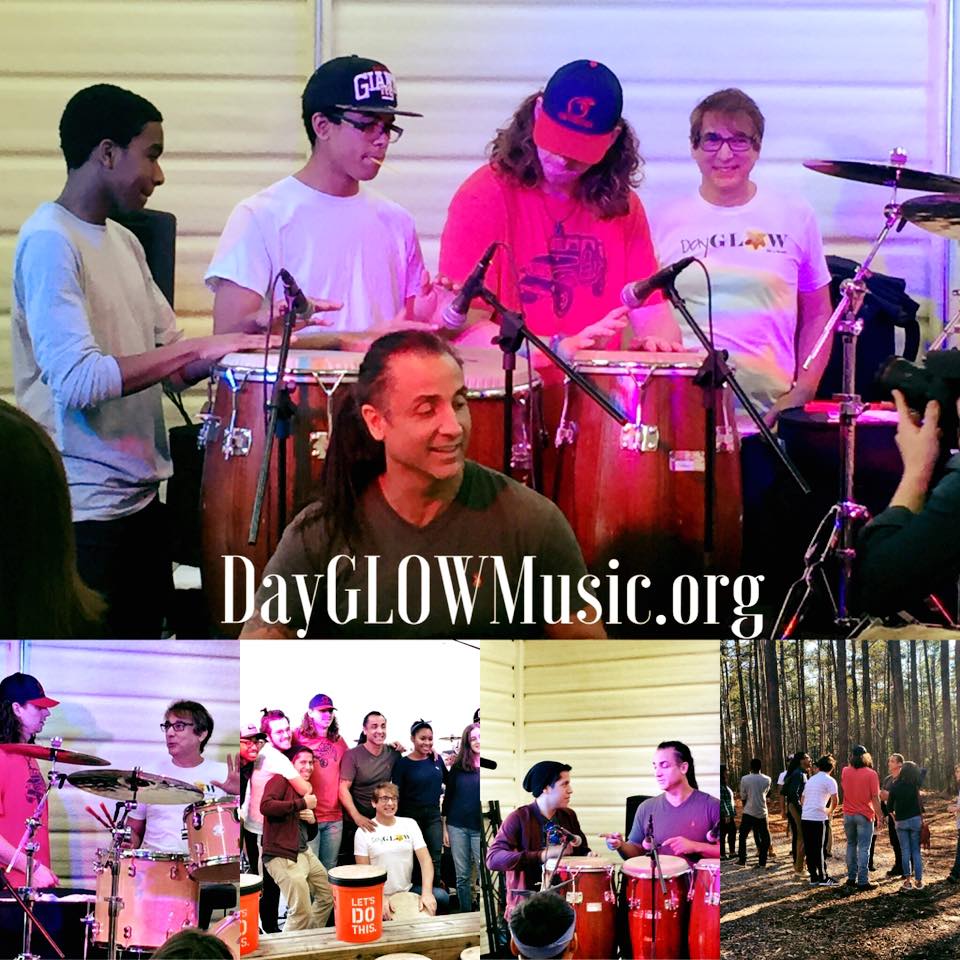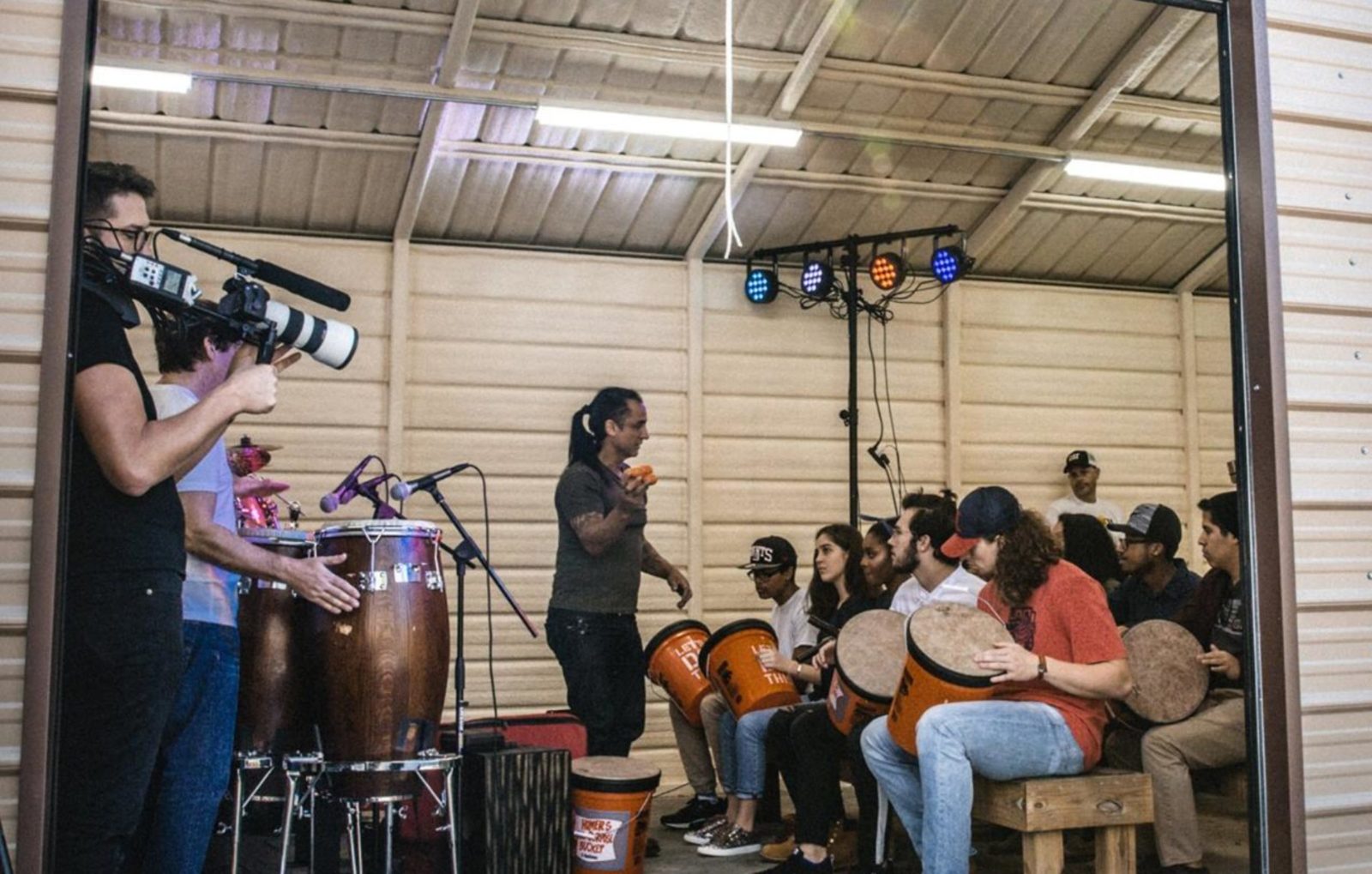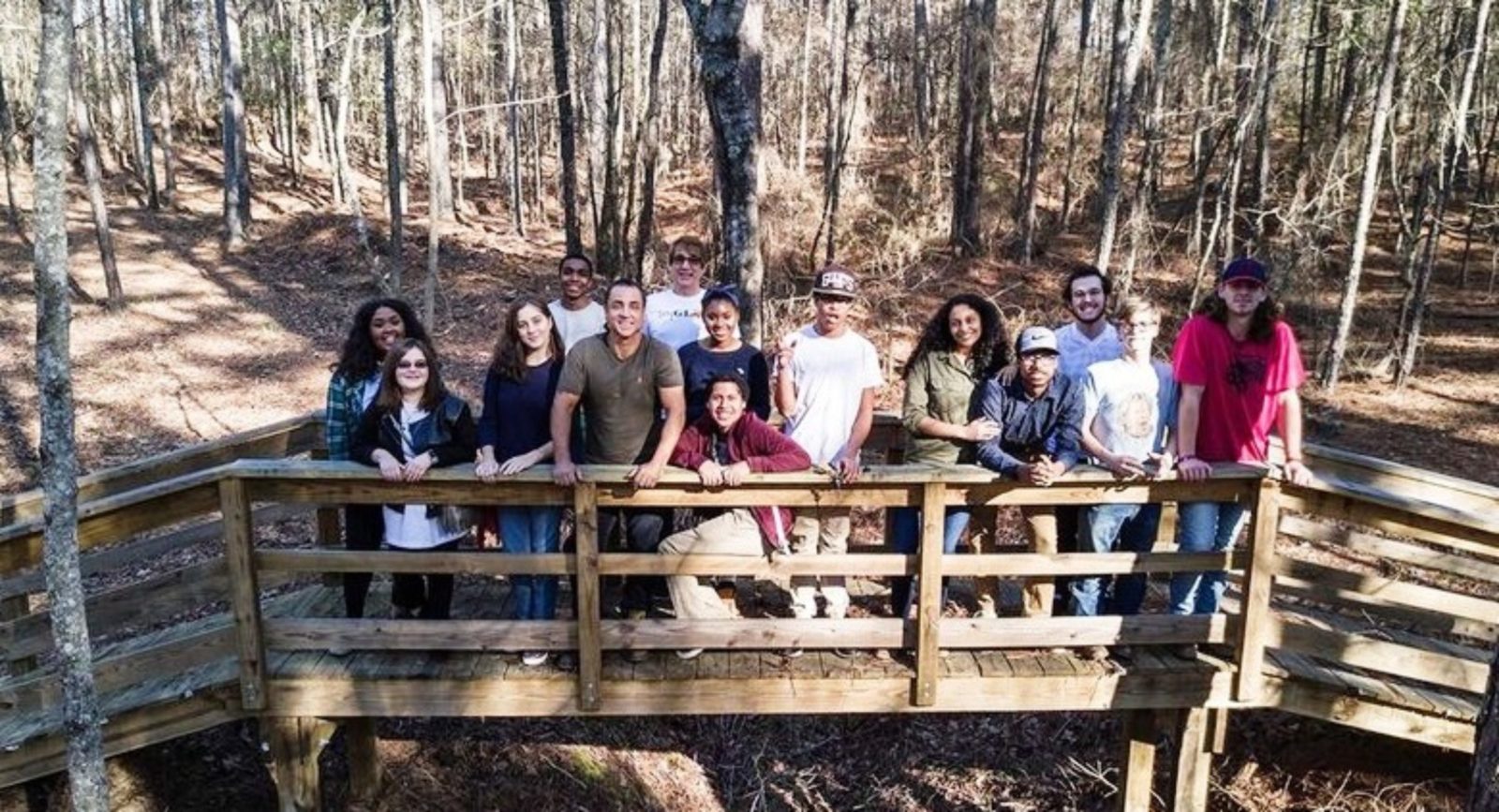 Facebook Posting by Danny - Drum/Percussion Music and Life workshops at DayGLOW Music. My brother, Walfredo Reyes, Jr. and I doing music development with young adults from local communities. One Beat at a time. Had a great time this last weekend with such wonderful young adults.
One day, Walfredo Reyes, Jr. another lifetime accomplished drummer who has performed with many famous artists as well, and who is currently performing and touring with Chicago, or you never know who it will be coaching the next day, at DayGLOW Music. Experience is crucial. Years of experience, nothing like it.
One of the most important lessons taught at DayGLOW Music is the importance of a team mentality. My brother, Walfredo Reyes, Jr., points it out as he was hired to work with the group Santana, he was not hired on his solo skills, but hired to make the whole group sound and perform as best as possible.
February 17, 2017 - Jacksonville State University Rhythmic Seminar - Jacksonville, AL
Facebook Posting by Danny - It is rare that you get me and my brother, Walfredo Reyes, Jr., at the same event. Moving always…all around the world. Tried, tested and proven. Consistency, dedication and devotion. DDLR & Wally Rhythmic performance.
Feb 17th Clinic Jacksonville State University Jacksonville Alabama
Daniel de los Reyes & Walfredo Reyes Jr. Rhythmic seminar. Decades of experience, decades of successes in the music industry.
"Workshop demonstrating the workings of a successful drummer/percussionist. Learn what it takes to make a living in the Music Biz playing Drums/Percussion".
"To work today in music, a variety of basic rhythms are necessary. Expanding your rhythmic vocabulary!" Between these two rhythmic powerhouses they have worked with the likes of, Whitney Houston, Santana, Chicago, Earth Wind and Fire, Zac Brown Band, Steve Winwod (Traffic), The Killers, Christina Aguilera, Pitbull, Lindsey Buckingham, Jennifer Lopez, Gloria Estefan, Don Henley (Eagles), Stevie Nicks (Fleetwood Mac), just to name a few.
December 8, 2016 - Asian Community Development Center - Las Vegas, NV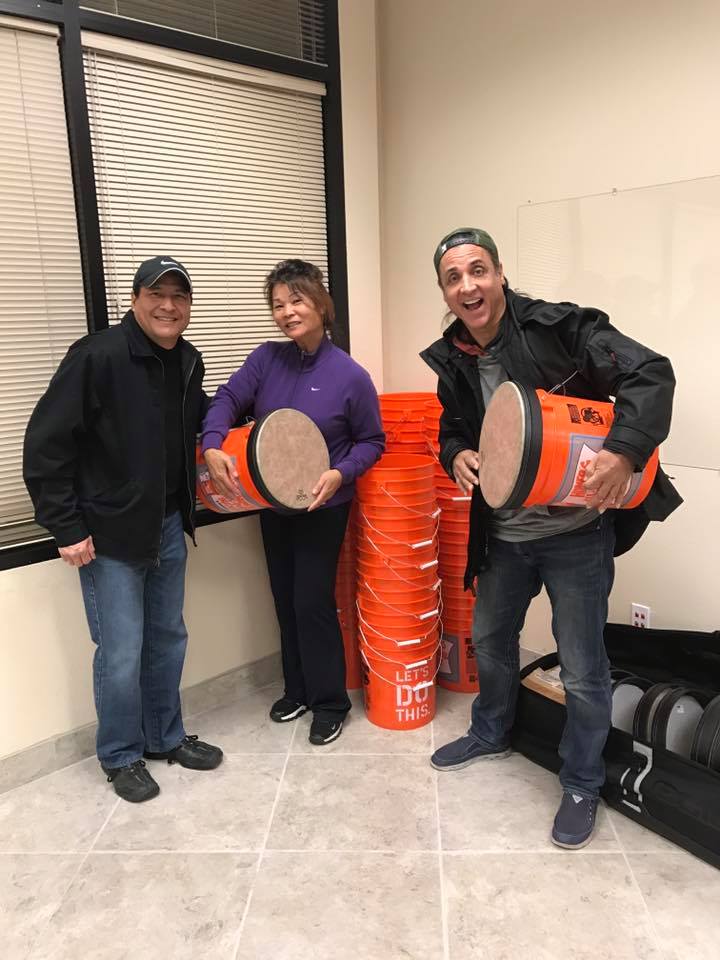 Posted by Danny - DayGlow Music outreach at the Asian Community Development Council Center in Las Vegas, Nevada.
Spreading DayGlow Music mission and vision. Demonstrating through example how to communicate sharing, paying attention listening, praising and respecting each other. Children can do it; adults should be able to as well.
October 2016 - Montessori School - Tyrone, GA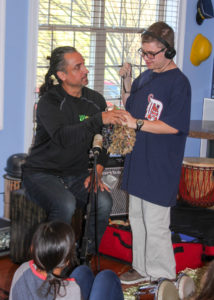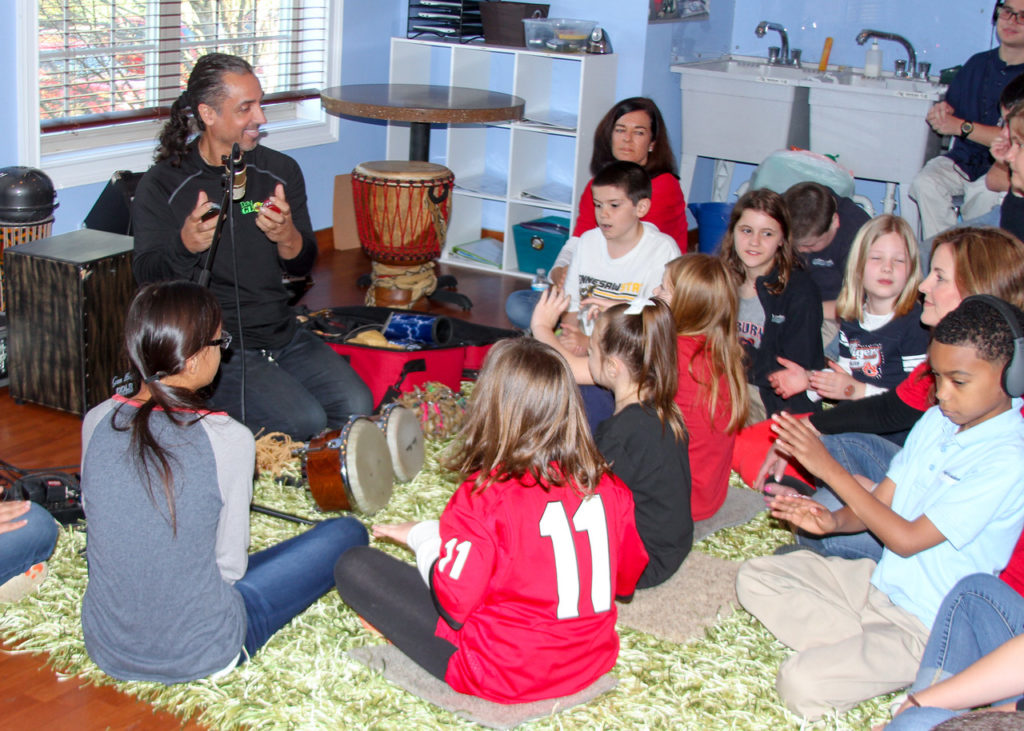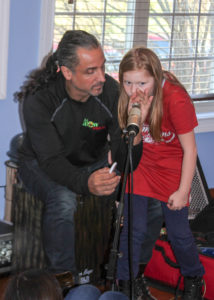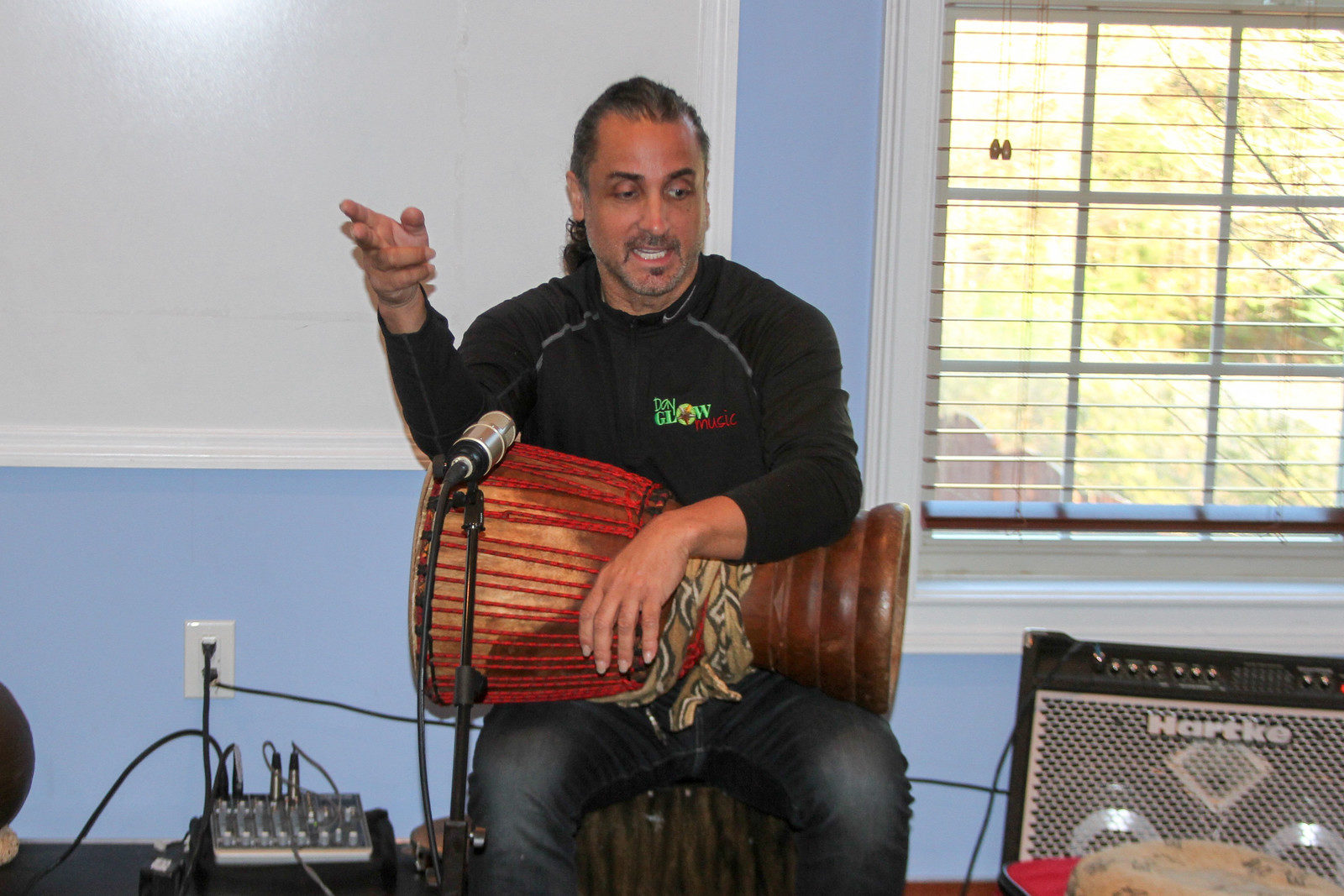 May 17, 2016 - Clearwater Academy - Tyrone, GA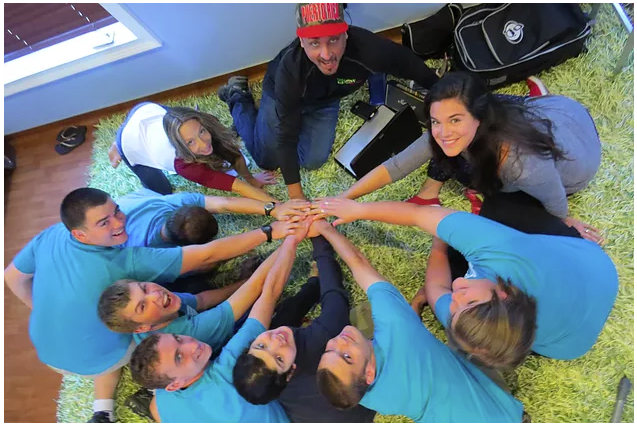 DayGLOW Music has forged a rewarding relationship with the students and teachers of ClearWater Academy in neighboring Tyrone, GA. Working to meet the needs of children with learning differences, ClearWater Academy currently enrolls students age 6-17 years old.
DayGLOW Music is proud to be a part of the upper-school programs; working with students with language-based and non-verbal learning disabilities, attention deficit hyperactivity disorder, Asperger's Syndrome, and other neuro-developmental diagnoses; in establishing trust and confidence in a group setting while exploring the fundamentals of music and percussion as an ensemble.
DayGLOW Music provides these services at no cost to the academy. While we maintain that "slow and steady" is the most practical means by which to grow and nurture this endeavor, it is through the combined experience of our key staff that we are assured to realize success in both reach and scope. We look forward to a long-term relationship with ClearWater as we explore curriculum involving other age groups and abilities.